Cuyahoga Community College's (Tri-C®) Brunswick University Center is the college in your back yard, offering affordable higher education to Medina County residents.
Located next to Brunswick High School and the recreation center, Brunswick University Center (BUC) is easily accessible from I-71 and Route 303.
Students can enroll in courses and complete their transferrable associate degree by attending day or evening classes. Program offerings also include college coursework for high school students (College Credit Plus), workforce training in the manufacturing trades, and career and professional development classes in finance, ISO, leadership, project management and Lean Six Sigma.
In addition, Franklin University and Tiffin University courses are located on-site. These local partnerships allow students to move seamlessly from community college classes into four-year university coursework while staying close to home. Students can complete bachelor's degrees in Criminal Justice – Justice Administration; Business Administration and Management & Leadership; and Accounting and Forensic Accounting. Appointments can be made with university representatives during their office hours at the center.
Hours, the latest course schedule and more can be found at www.tri-c.edu/brunswick under "Hours of Operation." Walk-ins are welcomed, but appointments with counselors are preferred. Call 216-987-3997 to schedule an appointment today.
Meet Your Director of The Brunswick University Center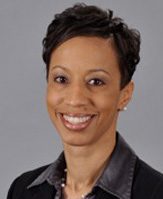 Radiah Blanton is working to make Cuyahoga Community College (Tri-C®)'s Brunswick University Center an integral and valued part of the community it serves. As director of the center, Blanton works to find synergies between the local labor market and BUC programming, while directing initiatives that serve students as well as the community as a whole.
Prior to her position at BUC, Blanton was Tri-C's College-wide community relations manager, responsible for building relationships with community groups and coordinating large community events, including the College's annual tribute to Dr. Martin Luther King, Jr. She prepared for this position as Tri-C's Western Campus community relations manager, where she developed relationships with Medina County elected officials, business and community leaders in conjunction with the establishment of the Tri-C Brunswick University Center.
Blanton currently serves as a board member on the United Way of Medina County and the Medina County Economic Development Corporation.
Blanton (nee Douglas) served on the selection committees for the Medina County Women's Journal Women of Our Community and ATHENA Leadership Awards. She also was a member of the Bring on Brunswick planning committee, an annual Brunswick Chamber of Commerce event.
Blanton has served on several College-wide committees at Tri-C. She is a 2014 graduate of the YWCA Quest Leadership program, a 2015 graduate of Mandel Leadership Development Program and a member of the 2016 class of Leadership Medina County. She has served as an advisory board member for the Parma City School District and is a former board member of the Heights Parent Center.
Before joining Tri-C, Blanton worked in community development at several local nonprofit organizations serving as a community organizer, program manager, and marketing coordinator.
She holds an associate degree from Tri-C. She earned a bachelor's degree in social work and a master's degree in public administration from Cleveland State University. She is pursuing a Doctor of Education (Ed.D.) degree in community college leadership through National American University.
Blanton is a lifelong resident of Northeast Ohio and enjoys volunteering, camping and spending time with family and friends.
Contact Radiah and the Brunswick University Center team to help guide you on your educational path.
Find more information about registering online at www.tri-c.edu/startnow.
Cuyahoga Community College
216-987-6000