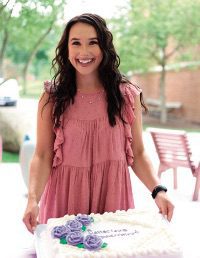 Leah Berdysz, MSSA, LSW, is on a "mission to empower and educate girls on how to be beautiful from the inside out through discovery of social, mental, and physical components."
Due to her own experience with anxiety and body image issues, Leah recognized the need to equip girls with the skills they need to be- come empowered. After graduating from John
Carroll University with her Bachelor of Arts in Exercise Science and Entrepreneurship in 2017, she founded Empowered & Poised LLC, which offers weekly empowerment blogs and workshops for schools and organizations centered on mental, social, and physical wellbe- ing. Leah is extremely passionate about wellness, entrepreneurship, and helping others to become their strongest, healthiest, and happi- est selves. She has attained over 10 years of experience working with youth, including mentoring, volunteering, camp counseling, coach- ing, and teaching an all-girls physical education class.
Working with Empowered & Poised inspired her to return to school, where she received a Master of Science and Social Administra- tion (MSW equivalent) at Case Western University in May 2021. She specialized in children, youth, and families and school social work. She is now a licensed school social worker and will be working for the Warrensville Heights City School District this upcoming school year.
In addition to her efforts, Leah became a first-time author of her book, Conscious Empowerment: A Guide to Helping Girls Build Self-Esteem & Confidence, in June 2021. Conscious Empowerment illustrates the potential challenges of a one-size-fits-all female empowerment message for girls through the exploration of intersectionality through race, culture, ethnic background, and socio-economic status on the development of a young girl's self-esteem and confidence. She provides
suggestions on how to tailor an approach that works for the unique individuals in your life. Her book is great for any parent, caregiver, educator, or professional who works or lives with young girls. Since the launch, Conscious Empowerment has ranked #1 New Release in Teacher & Student Mentoring and #1 New Release in Adolescent Counseling on Amazon.com.
If you are interested in purchasing your own copy of Conscious Empowerment, booking Leah or her team members for workshops or speaking engagements, or supporting Empowered & Poised in another way you can visit www.empoweredandpoised.com and follow us @ empoweredpoised. You can also connect personally with Leah on her LinkedIn or by emailing her at hello@empoweredandpoised.com to learn more about her offerings.