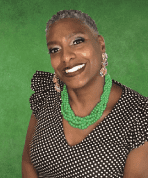 Andrea D. Campbell, MS, MBA is the Chief Caring Officer (CCO) at Vybrant Living. As a consultant and transformational coach, she helps organizations transform their workplace culture and engage its employees…through the power of caring. Andrea recognizes that in order to make change stick, to make it sustainable, it has to be intentional and internally motivated.
Andrea believes there's a call for healing and a sense of connectedness, where people can be guided on how to care more for one another. Because of that, Andrea has developed Radical Caring & Engagement Initiative, an innovative program to educate leadership on how to create a radical caring environment and empower employees through the power of caring. The development of the work is a result of her experiences as an engineer, trainer and salesperson in Corporate America. The program is delivered primarily through live and virtual presentations, online programs and executive coaching.
As a two-time cancer survivor, Andrea understands what it takes to be resilient (and thrive) in the face of adversity. Andrea is poised to help organizations manage, cope and thrive during these uncertain and challenging times. The novel coronavirus has shown us that we can't control everything that's happening around us but we can control our response to it. We must be willing to take responsibility for ourselves and the environment we work in. We must be willing to CARE.
Meet Andrea at the Medina County ATHENA Leadership Awards – 10/21/22