One of the Most Experienced Shoulder Doctors in the Country is Right Here in Cleveland.
The Cleveland Shoulder Institute treats patients with all types of shoulder and elbow disorders resulting from traumatic injuries, arthritis, instabilities, rotator cuff, and sports-related injuries. Led by nationally recognized Orthopedic Surgeon, Reuben Gobezie, MD, the Institute provides both surgical and non-operative treatments.
Dr. Gobezie is one of the country's top specialists in advanced arthroscopic and open surgical techniques to restore damaged joints, ligaments and bones. He is also one of the most experienced and highest volume shoulder surgeons in the country and leads the way in advancing outpatient shoulder procedures. A number of studies have shown that surgical volume, the number of surgeries a surgeon performs each year, is a strong predictor of patient outcome. The more surgeries a doctor and his surgical team perform, the better the results for patients.
Dr. Gobezie is a pioneering shoulder surgeon having developed the first cartilage transplant procedure for the shoulder performed arthroscopically. He has also developed advanced new techniques for treating biceps and tendon injuries in athletes. Along with Dr. Laurent Lafosse, a world leader in arthroscopic shoulder reconstruction, Dr. Gobezie developed a minimally invasive total shoulder replacement in France. In 2015, Dr. Gobezie received the NEER Award, the most prestigious international research award in shoulder surgery. He lectures at many prominent venues nationally and around the world.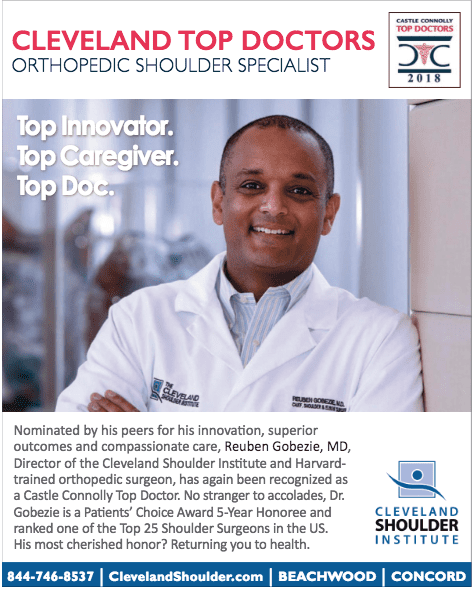 In 2010, Dr. Gobezie was elected to American Shoulder and Elbow Surgeons, the most prestigious specialty society in the United States for shoulder and elbow surgeons. He also received the Patients' Choice Award, given to physicians who have received near perfect scores as voted by patients. Dr. Gobezie is a five-year Patient's Choice award winner, an honor presented to less than 1% of physicians nationally and the result of online patient ratings of their medical care. Additionally, Dr. Gobezie is consistently ranked on the Top Doctors list by Castle Connolly through peer nomination and extensive screening of doctors across the US.
Cleveland Shoulder Institute
(844) 746-8537