Feeling frumpy or a little less fit the past few months? I know I am. No matter how well I eat, and how much I exercise, I feel like I am moving my body less. I have heard the same from many of you as well…the shutdown, working from home, and gyms being closed have all combined to make us feel a little less than. During these months you may have gained a few pounds or lost
some muscle tone. Maybe you feel mentally or physically sluggish because the future seems so uncertain. To counter your COVID feeling of frump, I am offering outfit ideas that will take you from feeling frumpy to feeling fabulous!
We are looking at styles that lift our spirits through their fun styles and prints and positive visual effects. I have reviewed these styles also for slimming effects (they make you look lighter and thinner) and for visual elongation (they can make you look taller and/or thinner). Visit me online and you will be able to "shop the catalog" to purchase anything you love or to get inspiration from your own closet. Make sure to read my "notes" in the "Finds" section of the catalog* to see who can wear the style and what effect it can create for you.
Nature Prints:
NatureprintsarepopularforSummer2020forareason. Wehavebeenindoors too much and we long for the natural world. Bring the outside to you with a fun and invigorating print such as a floral or leaf motif. The best size for most women is a medium-sized print. (think the size of the palm of your hand.) Large prints are the most difficult to pull off and are reserved for those who are blessed with some great height and have a medium to large bone structure.
Bright colors also ignite the soul when we are feeling dreary. Bright colors may not be for everyone. The colors I have chosen are for the most part are "Universal Colors," colors that most women can wear well, especially with a little glow from being in the sun.
Whimsical Prints:
When the world is serious, we can turn to some "fun" prints to lift our spirits. Take a look at these as well as more styles in my Feel Fabulous catalog. Studies show that our moods are affected by the clothing we wear. Of course, always choose colors and shapes that speak to your personal style and the message you want to convey. Polka Dots and tie-dye make us smile and I don't know about you, but I love prints that create a conversation piece.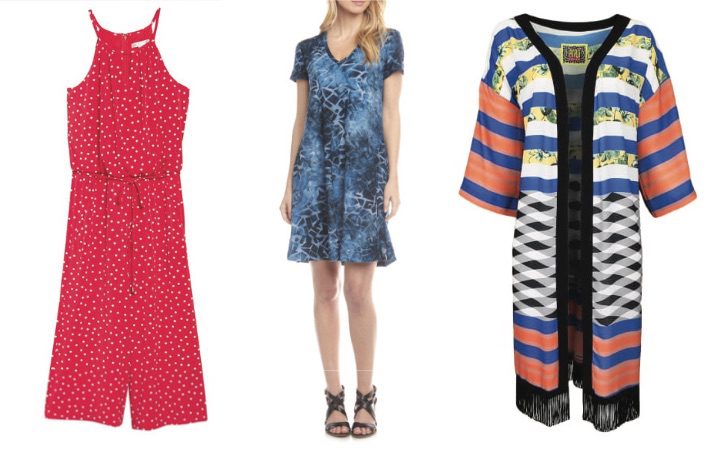 Slimming Designs and Prints:
These prints create the illusion of a slimming figure through the use of color blocking and vertical designs. A vertical block of color will draw the eye up making us appear taller and, in most cases, slimmer. Add a vertical detail such as vertical stripes and the elongating effect is even stronger! A solid band of color such as in this aqua dress can also create that slimming and elongating illusion. If you are on the shorter side, add some heels in a similar color intensity to your hem or your skin tone to lengthen even more. Also, notice that the plus size maxi dress (picture located under nature prints), although a nature print, causes the eye to look vertically up and down, based on how the print is aligned on the dress. This also causes a visually slimming effect.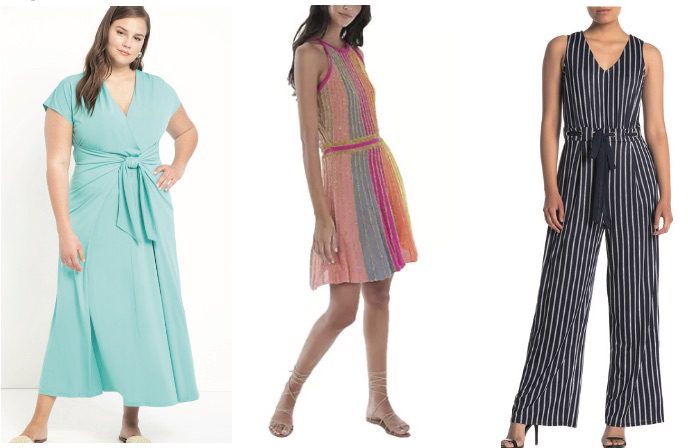 If you wonder what body shape you are, or what colors suit you best, I would love to talk about my Signature Color and Style package. We have both in-person and virtual consultation options!
See more fabulous styles on my online Summer catalog: https://hueandstripe.com/catalog/690H&SroH2
Pat Gibson is a certified Image Consultant, Personal Stylist, and owner of The Artistry of You, LLC. To learn more about how Pat can help you achieve your best personal style visit www.theartistryofyou.com.
*I may receive a small commission on some of the styles in my online catalog. This helps to compensate me for the time it takes to create my blog and catalog for your learning and shopping pleasure. Thank you!
The Artistry of You
440-212-2269