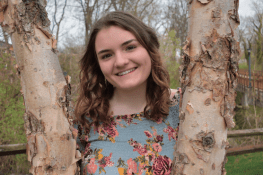 Paige King of Strongsville, Ohio is the recipient of the 2022 Gray Foundation Scholarship. King, a 2021 graduate of Magnificat High School, has been actively involved in Girl Scouts for 13 years and is a lifetime member. King credits her years in Girl Scouts as positively impacting her desire to serve her community both in her faith and in her future career as a doctor.
King is currently attending the University of Dayton where she is on a pre-med track with a minor in neuroscience with plans to become a neurologist. In her short time at the University of Dayton, she has joined Healing Hearts, a student service organization that promotes service to the community and raises awareness of healthcare issues within Dayton's community. Through this organization, she volunteers with Miami Valley Hospital and Dayton Children's Medical Center. She is also applying for a highly selective EMS program to become a certified EMT. Her passion for medicine stems from her experience with a serious concussion in eighth grade, which led to the discovery of a brain abnormality called a Chiari malformation. In learning about this abnormality, she became fascinated by the complexities of the human brain and wanted to help others with neurological disorders.
In 2021, King earned the highest honor in Girl Scouting, the Girl Scout Gold Award. She wanted to address the declining teen membership and participation in faith communities, specifically at her church, St. Joseph's Catholic Church. Her project, "Tree of Life" Mural, was a way to address this issue and encourage participation in the church, community, and faith, specifically from the church's youth group, By Teens For Teens. The mural located in the meeting room of St. Joseph's is intended to not only represent her faith journey but to inspire other teens to be more active in their faith and faith community.
As a senior in high school, King discussed the mural with members of the By Teens For Teens Youth Group to get their input on design ideas, including what symbols were meaningful to individual youth group members. Due to the global pandemic, King had to rearrange her original plan, which involved youth group members physically painting their personal symbols on the mural, instead adding the chosen symbols herself or having members who could come in a socially distant capacity to assist in painting.
The Gray Foundation Scholarship enables Girl Scouts of North East Ohio (GSNEO) to help outstanding girls reach further, achieve more, and use the experiences and skills they gain from the Girl Scout Leadership Experience to take the lead in making a difference in their communities. To qualify, girls must meet a number of requirements including earning the Girl Scout Gold Award; being enrolled in a 4-year college; committing to a minimum of 90 hours of community service during the scholarship award year; maintaining a connection to Girl Scouts during the award period; and completing a monthly service report.
We Are Girl Scouts
Girl Scouts bring their dreams to life and work together to build a better world. Through programs from coast to coast, Girl Scouts of all backgrounds and abilities can be unapologetically themselves as they discover their strengths and rise to meet new challenges—whether they want to climb to the top of a tree or the top of their class, lace up their boots for a hike or advocate for climate justice, or make their first best friends. Backed by trusted adult volunteers, mentors, and millions of alums, Girl Scouts lead the way as they find their voices and make changes that affect the issues most important to them. To join us, volunteer, reconnect, or donate, visit girlscouts.org.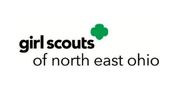 Girl Scouts of North East Ohio connects girls to a world of possibilities in a positive and inclusive, girl-led environment. Girls are inspired to discover their passions and empowered to reach their full potential through a proven leadership development program. GSNEO serves 25,000 girls and 11,000 adult volunteer members throughout an 18-county region consisting of Ashtabula, Carroll, Columbiana, Cuyahoga, Erie, Geauga, Huron, Lake, Lorain, Mahoning, Medina, Portage, Sandusky, Seneca, Stark, Summit, Trumbull, and Tuscarawas Counties. To volunteer, reconnect, donate, or join, visit www.gsneo.org.