My struggle with hormones and infertility prompted me to start studying a holistic approach and eventually led to me completing a fellowship in functional medicine and getting another board certification in Integrative Medicine.
When people hear that we specialize in hormones we usually get mixed reviews. One camp still believes that hormones cause cancer, which stems from a study in 2002 called the Women's Health Initiative that studied a synthetic form of hormone replacement (HRT) and found that in women over 65 there was an increased risk of blood clots and breast cancer. Since then, other studies have proven that the risk of blood clots is only with oral estrogen, so we never prescribe estrogen in an oral form. Furthermore, another study in Europe in 2008 observed that there was no increased risk of breast cancer in women aged 40-64 who took estrogen through the skin in a patch or a cream form, and a bio-identical form of progesterone. They compared this group to a group of women who took no hormones at all. So, the type of hormone and the way you take it, and the dose, all come into play. So you need someone who is an expert to manage your hormone replacement if you choose to take it.
Aside from the confusing data about the risks of HRT, we need to remember that the #1 killer in women is heart disease. Also, the studies are pretty clear that estrogen is protective of heart disease, that's why we don't see women dying of sudden heart attacks before 50 as often as we see that with men. Moreover, let's not forget that the DEATH rate two years after a hip fracture is higher than TEN years after breast cancer diagnosis, so osteoporosis is very serious. Estrogen has been shown in many studies to slow bone loss and help osteoporosis.
However, aside from risks & benefits of HRT, I would advocate for everyone to KNOW their hormones. That means you should be aware before and after menopause what your levels are. I see many women that have much too high of estrogen levels that are at increased risk for cancers of the breast or uterus. Knowing their levels, we can craft a plan for prevention.
There are many ways to test hormone levels. Traditional blood testing helps us see what your ovaries are producing, but saliva levels are best to test the stress hormone cortisol or to see what your tissues are exposed to. For example, a blood test is like your balance for your checking account at that very moment. It doesn't take into account if you are getting deposits or withdrawals. So if I'm an accountant, I won't just look at your balance, I will look at your checkbook, your receipts, and how much you have been paid to make an assessment. Urine testing lets us see how your body is processing hormones and make sure you aren't stockpiling estrogen, which would be bad. So, even if you don't think you need hormones, you should get tested to make sure you are in balance!
We can help you get your life back too.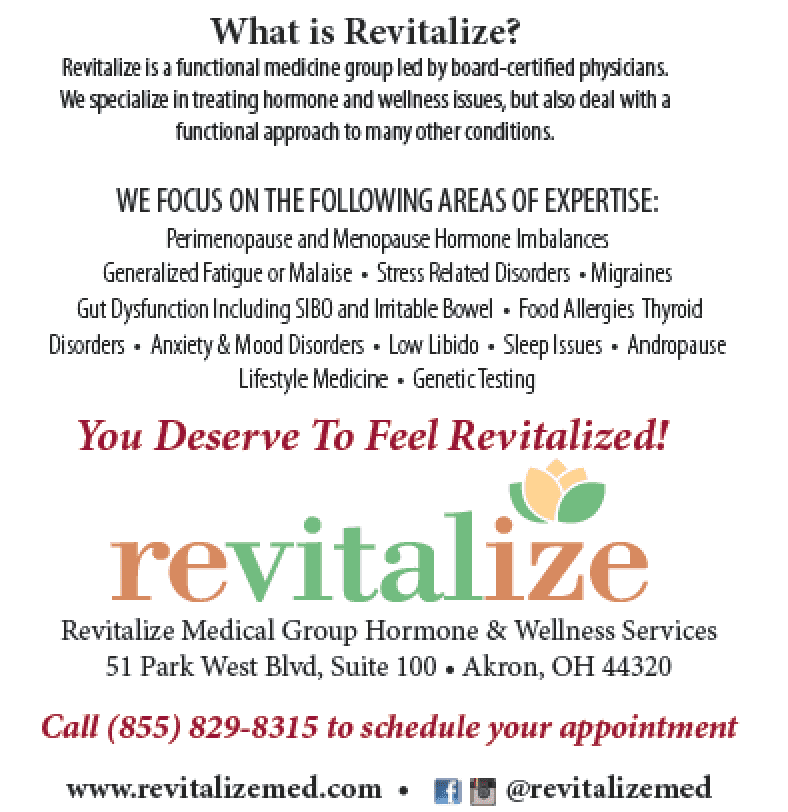 Revitalize
(855) 829-8315