Meet Maggie McKernan, PA-C at Apex Dermatology. She launched the newest Apex location in Lorain! She offers patients quick access to expert care for all their skin care needs.
Patients in the Lorain area can see her same-day for conditions such as acne, psoriasis, skin cancer and more!
What led you to where you are now, practicing dermatology in Lorain with Apex Dermatology?
Having had sensitive skin all my life, I found the specialty of dermatology very intriguing. I personally struggled with my own eczema and acne growing up. Now, I help others feel better in their own skin. Dermatology is very visual, and I love that my patients can see and feel the impact their treatments are making!

I am specifically excited to be working at the new Lorain office because we will be able to fill an important need in the community.
What are some of the most rewarding skin conditions to treat?
There are a few areas in dermatology where we truly transform lives. We identify and cure skin cancer. We treat acne and prevent lifelong scars. We clear your psoriasis! These are just some of the ways we make people feel good in their skin again.
What's one tip you like to share with patients suffering from acne?
It's important to know that with all the treatments available today, no one needs to suffer with untreated acne and lifelong scars.
We can formulate a plan that is unique and works best for you. We will support and empower you to feel confident in your skin.
What's new when it comes to treating psoriasis?
The treatment of psoriasis has truly been revolutionized over the last ten to fifteen years since biologic injections came to the market. We now have the tools to clear your skin better than ever before. The great news is that these medications not only clear your skin more effectively but are also safer than treatments historically used to treat psoriasis.
Why are skin cancer screenings so important?
Twenty percent of adults will develop skin cancer during their lifetime. When caught early, these are very treatable using outpatient procedures with minimal downtime. Annual skin cancer screenings can help identify these potential cancerous lesions early.
We recommend avoidance of sun exposure during peak times of day, use of sun-protective clothing, and wearing sunscreen daily to help prevent skin cancer.
Ready to join Maggie at our Lorain location? Request a same-day appointment today!
Abut Maggie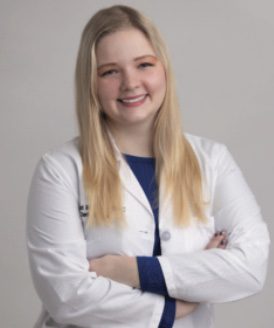 Maggie McKernan is certified by the National Commission of Certification of Physician Assistants and is an Ohio State licensed Physician Assistant. She received her Bachelor of Science degree in 2018 and Master of Physician Assistant Science degree in 2019, both from Gannon University in Pennsylvania.
Maggie has spent the last two years working in dermatology with a focus on skin cancer, acne, psoriasis, eczema, and other cutaneous conditions. Maggie is a Society of Dermatology Diplomate Fellow and a member of the SDPA conference committee. She is passionate about providing a pathway to healthy skin and educating her patients on skin cancer prevention. Maggie was a lecturer at the 2020 PSPA conference on benign and malignant neoplasms as well as skin cancer prevention.
In her free time, she enjoys playing volleyball, spending time with family, and exploring Cleveland with her husband.