Medina County Health Department offers health services, screenings, and treatments to live a longer, healthier life so you can be there for your family.
AN ESTIMATED 66% OF CAREGIVERS ARE FEMALE.
Women provide the majority of informal care to spouses, parents, parents-in-law, friends and neighbors, and they play many roles while caregiving—hands-on health provider, care manager, friend, companion, surrogate decision-maker and advocate. We need to care for ourselves to care for others! Source: caregiver.org
Our mission at the Medina County Health Department is to prevent disease, assure a healthful environment, prolong life, and promote the well-being of the citizens of Medina County. Many of our services and programs focus on educating all citizens, but we also recognize that women experience unique health issues and conditions.
The Health Department has a full-time family practice physician, a full-time family nurse practitioner, and a certified nurse midwife who are all trained to provide complete services for women. General physicals, breast and cervical cancer screenings, low cost reproductive health care, and consultation for gynecological issues are just some of the services available.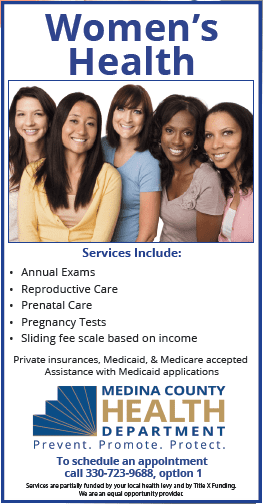 Regular health exams and tests can help and problems before they start. Some health issues that are common to both men and women affect women differently, so it is important to work with a provider who recognizes this and works with you as an individual. By getting the right health services, screenings, and treatments you are taking steps for living a longer, healthier life. For women of reproductive age it is especially important to address issues such as high blood pressure, diabetes, obesity, and substance abuse, which may affect future fertility, pregnancies, and birth outcomes.
The Health Center at the Medina County Health Department accepts private insurance, Medicare plans and all Medicaid plans. Our staff is committed to your health.
Hours of Service: Same day appointments available. 
8:00am to 4:30pm on Monday, Wednesday, and Thursday
8:00am to 7:00pm on Tuesday 
8:00am to 2:00pm on Friday
Medina County Health Department
(330) 723-9688