Why wait until you need to make a change when you can begin enjoying the freedom, social life, security, and comfort of Danbury Senior Living now? Danbury Senior Living provides high-quality amenities and services for every stage of senior life so that our residents can live fully. Danbury Senior Living operates with an innovative philosophy – one that promotes optimal health and vitality while making each resident's choices our priority.
Danbury Senior Living Q&A
What makes Danbury Senior Living unique?
Our approach begins with innovative building design and forward thinking. In our initial phase, we obtain an Ohio Residential Care Facility license for all apartments or suites. By doing this, Danbury residents enjoy the satisfaction of knowing that they may move into an apartment at an "independent level" and have the opportunity to receive care services, when desired, without moving to another location. Residents appreciate the freedom to obtain assistance within their Danbury suite by Resident Companions they have developed professional relationships with and grown to trust.
What is the difference between an independent senior apartment, an assisted living apartment, and a nursing home?
Independent senior apartments typically offer an apartment within a community with select amenities that mav include meals, housekeeping, maintenance, and life enrichment activities; home health services may be available.
In assisted living, residents enjoy their own apartment and additional community areas for life enrichment and entertaining, meals, housekeeping, maintenance, and laundry services as well as receive assistance from specially-trained staff with activities of daily living (ADLs): medication administration, mobility, showering and bathing, dressing,
personal hygiene, and psycho-social programs. Specialized memory care or memory support programs may be included and often in a secured neighborhood of apartments with staff who are educated to work with and provide understanding care and services.
In a nursing home, residents require a higher acuity of care and services (including skilled services as defined by the Centers for Medicare and Medicaid) delivered by a skilled provider at an intense rate of care like tube feeding, wound management care, IV therapy, and 5-day/week physical, occupational, and/or speech therapy. Danbury is not a nursing home.
With 15 locations situated in towns across Ohio, Danbury Senior Living brings you close to everything you love and deserve. At Danbury, you'll never feel isolated or alone. Visit www.danburyseniorliving.com to request a tour and explore the Danbury Communities.
WOMEN YOU SHOULD KNOW – Danbury Senior Living Team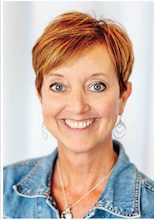 Kelly Rose Stallard, Director of Business Development and Marketing at Danbury Senior Living received her bachelor's degree in Gerontology from Kent State University. With 20 years of experience in the healthcare field, Kelly has a passion for educating people with compassion about their healthcare options through education, events, or community outreach.
"I invest my time and efforts in making a difference in the lives of others."

Kelly Rose Stallard