Are you considering or hesitant about Microblading? If so, we are here to make it a pleasant and gratifying experience.  At Vickie Phillips Aesthetics LLC, your facial structure is a blank canvas. Utilizing state-of-the-art tools, we apply pigment to create precise strokes that mimic hair in place of non-existing brows. The results are natural-looking brows, contoured to frame your face and give your eyes a youthful appearance.
Take some time to review our website photo gallery or Instagram page. Our photos are not models, only clients that live and work in Northeast Ohio and surrounding areas just like you. 
Call (330) 592-8978 or email vickielynn@sssnet.com to schedule your FREE PRIVATE consultation.
"Vicki is THE BEST !! Had my brows microblading almost 2 weeks ago and they are beautiful.  I'm so pleased with how natural they look. Vicki included me every step of the way. I highly recommend her and will always go to her." – Karen H.
Specializing in 3D microblading, lash extensions, eyeliner tattooing and lip blushing, Vickie Phillips provides professional cosmetic tattooing and facial enhancement services. Vickie brings over 35 years of experience as a licensed Esthetician, Medical Aesthetics Specialist, and make-up artist.  She currently serves as a make-up artist for on-air personalities for ABC, ESPN, and TNT.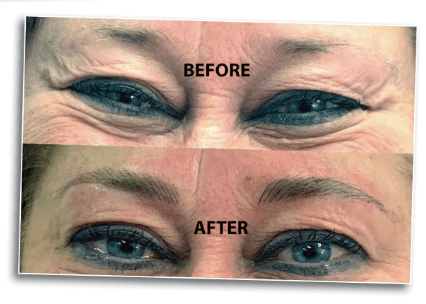 "Had my eyebrows microbladed with Vickie and the experience was phenomenal.  Not only is she very experienced and professional she is a warm and friendly person. I definitely recommend her."   Ashley R.
Please follow us on social media, visit our website or call for hours of operation and questions!
Vickie Phillips Aesthetics, LLC
(330) 592-8978