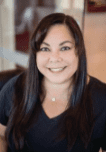 Teresa Rodgers never shies away from a challenge. Working since she was 15, Teresa always found her own path for success. She overcame dropping out of high school to achieving both a Bachelor's and Master's degree in Business Administration while ascending to an Associate Director position with a Fortune 20 company. Facing corporate layoffs in 2015, Teresa decided to control her destiny. She enrolled in cosmetology school and then opened her own small business. This spring she celebrated the one-year anniversary of Encore Nail Studio in Medina. When Teresa started her business, she knew the key to providing top-notch nail services had to include high sanitization and ventilation standards within an environment that was pampering and positive. She feels clients should enjoy their service so much they want to return again and again, hence the name Encore Nail Studio. Encore believes its core values should consider employees AND clients. So what does ENCORE stand for?
EXPERIENCE Employees – Feel stable, feel valued, they are a part of the studio; not a pawn. Clients – It's about you for a change!
NURTURE Employees – Kneading and shaping your career to reach personal and professional goals, from technical acumen to leadership and management. Clients – We build relationships with our clients; you are never just a paying body.
CARE Employees – Financial consistency through hourly wage base pay and bonus programs versus commission of gross sales; promote and enforce work/life balance, provide the environment and tools to love what you do. Clients – Care for your health, safety and mental wellbeing in everything we do for you.
OPPORTUNITY Employees – Unleash your creativity; expand your talents. Clients – Escape the every day. Once you walk through our glass doors, nothing else matters but caring for you.
REPEAT Employees -Mastering the art of excellence with every client, every time. Clients – Experiencing an excellent service and relaxing environment in a way that makes you want to come back.
EDUCATE Employees – We're not only students, we're teachers. Clients – Evolving client knowledge of hand, foot, and skincare for long term results.
Call 330-952-1700 today to schedule an appointment.
We look forward to pampering your fingers and toes!
ENCORE Nail Studio
330-952-1700